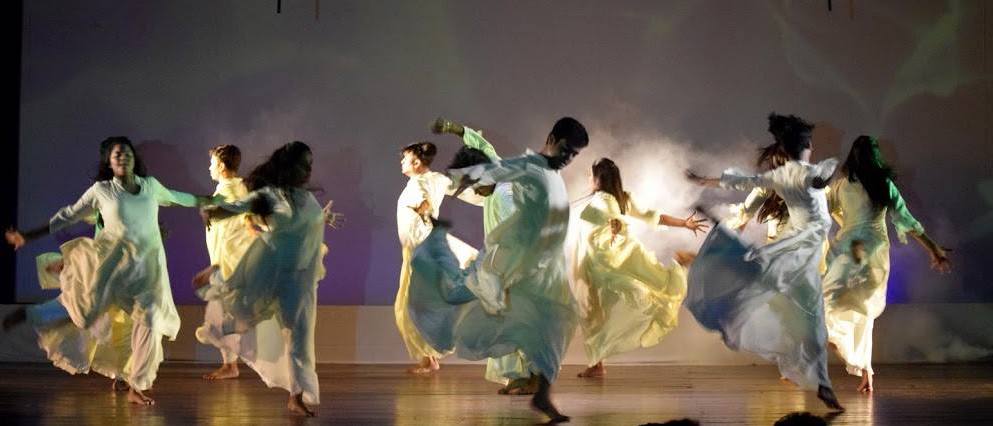 An exciting component of the upcoming Ocean Dance Festival is a 15-day Choreolab by Canadian Irani dancer Sashar Zarif ending with a Gala Presentation on the Opening Night of the Ocean Dance Festival. Check out Sashar's website at www.sashardance.com
7-21 November
Cox's Bazar, Bangladesh
For updates, see the Facebook event: https://www.facebook.com/events/365042304149037/
ABOUT SASHAR
Sashar Zarif Dance Theatre (SZDT) is an internationally renowned Toronto- based dance theatre organization founded in 1994 by award winning multi- disciplinary performing artist, educator and researcher, Sashar Zarif. Through extensive touring across 37 countries including Americas, Europe, North Africa, Central and Western Asia, and the Middle East, Zarif has spent his professional life promoting cultural dialogue through intensive fieldworks, residencies, performances, and creative collaborations. His research interests are identity, memory, globalization, and cross- cultural collaborations. His artistic practice invites a convergence of creative and cultural perspectives. His teaching practice is steeped in the artistry and history of traditional, ritualistic, and contemporary dance and music of the Near Eastern and Central Asian regions and Islamic communities. For over twenty years Zarif has worked tirelessly to maintain the integrity of these fine arts by operating within three interdependent faculties of research, creation and education.
"My practice is a budding tree, established in the earth while rejuvenating in the air. Researching the roots, educating the body, and creating the fruit of this tree, are the mandate of my practice."—Sashar Zarif
Artist Profile
OVERVIEW: I am a multi-disciplinary dance artist striving to contribute to socio- cultural animation. I am committed to maintaining the integrity of performing and expressive arts to facilitate a journey of self- discovery as a way of understanding one's perception of reality. In fulfilling this objective, I aim to infuse dance with other essential pillars of art including music, poetry, calligraphy, storytelling, and rituals; thereby acquiring a genuine understanding of the human nature I seek to explore and understand.
PERSONAL & ARTISTIC BACKGROUND: My identity is not a product but it is the process of a ongoing constructive negotiation of my relationship between the cultures, languages, and experiences I carry with me. I come from a history of inherited migration through my grandparents and my own personal experiences with revolution, war, imprisonment, torture, fleeing, refugee camps, and migration. I am a new Canadian, born into an immigrant Azerbaijani family in Iran with strong Central Asian roots.
As an artist from the East living in the West, and after a number of years establishing my Azerbaijani/Iranian Canadian dance practice in Toronto, I found it necessary to examine my identity through a Western lens. Being introduced by my host society as "Middle Eastern", "Muslim", "Refugee", or "Immigrant", I often found myself confused. I struggled with the confrontation between the new culture and my own history. How could I negotiate the apparent contradictory appearance of who I was in the eyes of others and the reality of what I felt in my artistic practice? I came to the conceptual juncture of assimilation, integration, and acculturation on one hand, and preservation on the other.
I faced a decision to fully assimilate into Canadian culture, retain and maintain my own culture, somehow blend the two, or search for another possibility to help negotiate my identity. I wondered if there was a way I could make peace with it all — a way that was not yet clear to me, a way that would make sense, a way that would be true to the duality of my past and present experiences while allowing me to be happy, satisfied and to excel in my life and art. It has been an eternal search and I have come to the conclusion that life is a process-orientated inquiry. Rather than me longing to arrive at a destination, it is a continuous journey that has been informing my practice and has supported my goal of making a positive contribution to the world I live in.
MY PRACTICE: My professional practice is the process of transforming my personal journey in life to my professional journey in the world. A transformation that works towards an ongoing inquiry into my personal and social-cultural reality. This practice aims to provide stimulus to my own individual mental, physical, and emotional life in order to inspire or facilitate myself to undertake a wider range of experiences that can foster a higher degree of self-realization, self expression, and awareness of belonging to the self, to a community, and to the world at large concurrently.
ARTISTIC INTERESTS/OBJECTIVES: To date, my artistic practice has been accomplished by extensive ethnographic research into the artistic practices of the deeply culturally and historically inter-related Central and Western Asian cultures as well as the cultures of the Islamic societies at large. Also I have participated in a series of cross- disciplinary, culturally creative and educationally collaborative projects both in Canada and across the globe. Thus, My artistic activities are comprised of three inter-related sections/practices: research, teaching, and creation/performance/production — all three operating simultaneously to support one another.
CREATIVE APPROACHES: Since 1994, I have provided artistic activities to dance artists and students in both rural and urban communities across 29 countries. Today, I continue to build on:
• Research (archive: audio/visual/text material, practical knowledge/information, and method of inquiry)
I inquire into the past to connect with the present and contribute to the future. It supports my mission by bringing awareness to the creative exploration of identity, globalization and cross-cultural explorations as well as the basis for my evolving dance pedagogy. I have conducted extensive ethnographic fieldwork across Central and Western Asian, the Middle East, and North Africa focusing on inter- related Sufi, Shamanic, and traditional dance rituals across Islamic societies.
•Creation – Dance form
Dance of Mugham (a constructed dance form providing me with a effective tools to work with) Dance of Mugham is a dance form that was reconstructed and reimagined through the study of its once integrated partners: mystical poetry, classical music, classical calligraphy, and rituals of Sufi and Shamanic traditions across the Islamic societies. This form was created in order to enable me to work with the wealth of wisdom, knowledge and integrity embedded in these mystical practices that have been promoting inquiry into the reality of self, compassion, harmony, and tolerance. The Project was realized over eight years through focused and intensive field world, study and consultation with some of the prominent masters of music, poetry, calligraphy and sufi rituals.
• Creation – Creative approach
Moving Memories (A creative process for dance- making/choreography)
For me, creation is about transformation of artistic experiences. Through articulation and refinement, this creative process provides reality to my artistic creations, resulting in my choreographic works.
• Pedagogy – SZDT's Itinerant Dance Academy (IDA)
(the means by which I share and communicate the aforementioned artistic activities)
Educational outreach is an integral component of SZDT's mission and vision. Formerly known as the Joshgoon Dance Academy which was established in 1994 by Sashar Zarif after his graduation and performance experience in National and Classical Dances of Azerbaijan and Central Asia in Baku, Azerbaijan. The new Itinerant Dance Academy offers residencies, lecture- demonstrations, and classes in Near Eastern and Central Western and Central Asian dance, character, technique and choreography, including dances from Azerbaijan, Dagestan, Iran, Afghanistan, Tajikistan, Turkmenistan, Uzbekistan Kazakhstan and Western Mongolia. Of special note is the "Dance of Mugham" which is the product of over twelve years of research and reconstruction completed by Artistic Director Sashar Zarif. The goal of Sashar Zarif's of IDA is to reinstate the nearly lost element of dance back into the ancient form of Mugham.
The Itinerant Dance Academy has been appropriately named "Itinerant" since Zarif's teaching and curriculum has, and continues to be experienced by students and artists of all ages across the globe. After years of honing his teaching practice, Zarif's students have benefited from the profound opportunity to explore their past memories through integrated dance practices that involve music, poetry, calligraphy, ritual, storytelling and oral journaling. Zarif's unique dance pedagogy, curricular content and course offerings offer an educational platform for his students to nurture the theatre's core values: inquiry, sharing, diversity, individualtiy, tolerance, compassion, harmony, responsibility, awareness, and motivation.
As such, the Itinerate Dance Academy facilitates moving beyond a fixed understanding of culture to a universal way that humans relate to the world around them. SZDT Itinerate dance academy was conceived to facilitate genuine communication and awareness between people across the globe.