The new dates of the conference are December 26 – 27, 2020. We have accepted 63 presenters for scholarly papers, 21 dance works for the showcase, and 16 master classes offered by current residents of Taiwan with different nationalities. The paper and showcase presenters who are unable to enter Taiwan will be honored and be presented through filmed footage. With no COVID-19 local cases in Taiwan since March, the committee has decided to move on as planned and hope the door will be opened later this year to bring all to join.
26-27 December 2020, Kaohsiung, Taiwan
"Navigating Location, Negotiating Identity"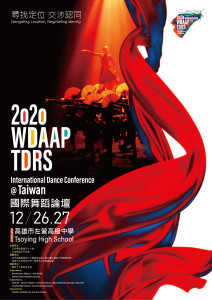 At this conference, we explore dance and its relations to identity with its many ramifications, focusing on the currents and flows involved in navigating location in and outside of relation to the nation and to the global. We investigate how "dance" provocatively (re)interrogates and (re)conceptualizes fundamental questions about region, nation, and location, as well as their representations. This includes the rich dynamics between intraregional and international studies of dance practices and theorization. The dialectic potential between "inner" and "outer" as well as "intra" and "inter" points to the need in dance studies to reexamine the issues of identity and geopolitics across lands and waters as well as across the global and regional; it celebrates and interrogates the connecting, mediating and negotiating power of dance, as well as the shifting relationships and pedagogies in the development of diverse dance histories.
Presentations may address, but are not limited to, the following topics:
– Identities and identifications through dance and movement analysis.
– Dance histories related to identity formations through gender, race, ethnicity, socio-economic class, sexuality, (dis)ability, (non)religiosity, nation, and region.
– Role of dance in formation of imagined / symbolic / contested / socially defined communities.
Proposed presentations may take the form of Scholarly papers, Pecha Kucha presentations for emerging scholars, panels, lecture-demonstrations; Master Class, and Showcase Performance.
Please note: Papers that are pre-grouped into panels are encouraged and have higher likelihood of acceptance. Individual papers will be grouped into panels by the program committee.
The proposals are invited clearly indicating the category of presentation under "Scholarly Paper" or "Showcase" or "Master Class" in the title of email subject in sending as well as on the title of the attachments.
The application will be from 10th January, 2020 and the last date to submit your proposals is on or before 10th March 2020 to the following email address. Please use the correct application form in the category you choice to apply: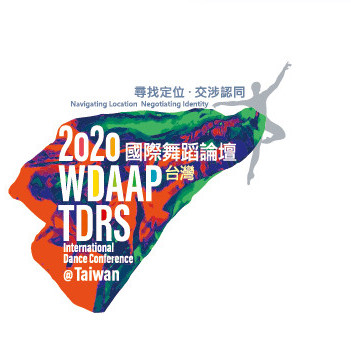 1. For Scholarly Paper including Pecha Kucha, Panel and Lecture Demonstration: (download application form for Scholarly Paper)
please send to: wdaap.taiwan2020@gmail.com

2. For Master Class: (download application form for Master Class),
please send to: WDA2020masterclass@gmail.com

3. For Showcase,
please fill out our online application form.
Additional tour information