In this edition:
Reports on the Ocean Dance Festival in Bangladesh, including a special report on the Choreolab.
Photos and participant reports from the International Young Choreographers' Project for 2019.
Announcements of upcoming events, including the August 2020 AGM event in Kaohsiung, Taiwan.
…as well as our usual executive reports, network reports, and country chapter reports.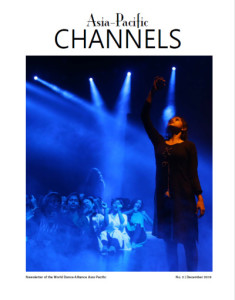 Download Dec 2019 Asia-Pacific Channels
[

PDF 4.6MB]
Asia–Pacific Channels is the bi-annual magazine of the World Dance Alliance Asia-Pacific (WDAAP), published by Ausdance National in collaboration with MyDance Alliance in Malaysia. It profiles dance events and activities from WDA members throughout the Asia–Pacific region.
Back issues of Channels can be downloaded from here. The archive of Channels dating back to 1996 is available from the Ausdance website.