The biannual magazine of World Dance Alliance Asia-Pacific contains reports from our executive committee, our network chairs and our country chapters, as well as updates on upcoming events.
In this edition, we see how dance communities across the Asia Pacific region continue to respond to the challenges of the Covid-19 epidemic, which for many of us has meant settling into digital distribution as the new normal.
Also check out:
An update from the Global Executive on the discontinuation of the position of Secretary General;
A spread of images remembering and acknowledging the services of our departing Secretary General, Prof. Mohd. Anis Md. Nor;
A reminder that the WDAAP AGM will happen this month in conjunction with the 2020 WDAAP/TDRS Conference from 26 to 27 December in Kaohsiung, Taiwan.
… as well as beautiful and inspiring images of dance from across the Asia-Pacific.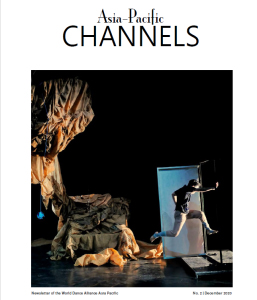 Download December 2020 Asia-Pacific Channels
[

2.7 MB PDF]
Back issues of Channels can be downloaded from here. The archive of Channels dating back to 1996 is available from the Ausdance website.