A Tribute to Carl Wolz by Ann Hutchinson Guest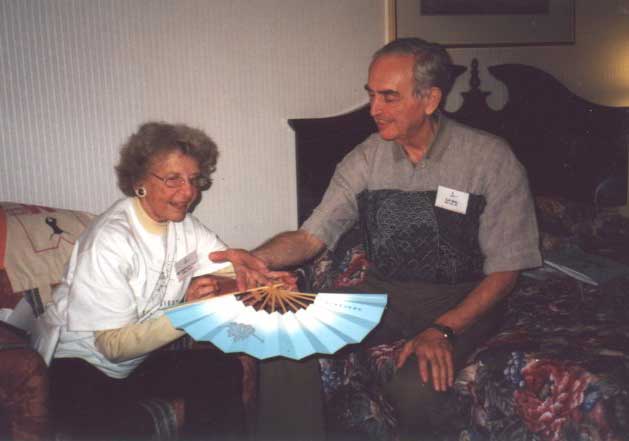 Carl Wolz was truly a world citizen, a man admired and loved by all who knew him. On January 3rd, 2002, he finally lost the battle against cancer, which for six years he had nobly been fighting. He will be deeply missed by friends, ex-students and colleagues around the world.
Carl had a long and distinguished career in dance. He taught at the University of Hawaii for 20 years, leading its dance program. He was the founding Dean of Dance at the Hong Kong Academy for the Performing Arts. While there he organized the 1990 International Conference on Movement notation at which the Eshkol-Wachmann system was featured as well as sessions on the Laban system and many intercultural exchanges. He was also responsible for the two-week tour of China which followed, a tour which featured visits to dance schools, academies and performances in the major cities. Leaving Hong Kong in 1994, he taught for several years in the Graduate School of the Japan Woman's College of Physical Education in Tokyo. He founded a Labanotation group in Tokyo and influencing many to come to the USA to take their degrees. Thanks to his influence, the biennial ICKL conferences have had more and more Asian representation, members coming from Taiwan, Singapore as well as Hong Kong, China and Tokyo.
I will not undertake here a full account of his achievements, this will be a more personal tribute. Carl entered the Juilliard School Dance Department just after I had left, thus it had not been my pleasure to have him as a student. But his interest in notation meant that our paths soon crossed. An early interest in Asian dance led to his learning Japanese and Chinese. His contribution to ICKL many years ago had been an improved analysis and new signs for the head, which were admired but did not reach the stage of acceptance. Now may well be the time that they should be reconsidered. He also proposed stage and off-stage indications for the more complex settings met in various forms of Japanese dance. These are on file for use when the need is met.
He became expert on the handling of the particular Japanese fan used in the NOH dance, called a sensu. I turned to Carl, of course, when I came to include the handling of a fan in the Advanced Labanotation textbook on Handling Props. Carl made available to me his detailed notations and explanations. I made the decision, with his permission, to include most of this material in the book. How glad I am now that I did for it will be of particular interest to his Japanese students and colleagues. Because of his uncertain health, it took three years to check and finalize each detail with him. One meeting was at the hotel in Washington, D.C. during the Dance in the Millennium conference, at which he taught me how to throw the sensu into the air and catch it again, as shown in the photo here. At each meeting Carl was wonderfully patient and meticulous regarding the detail. How fortunate we were that he was able to give his final seal of approval on the notation to be used in the Props Book.
Carl had courtesy, patience and kindness, he was truly an old-fashioned gentleman. His focus was never on himself, always on what could be achieved, on seeing the possibilities ahead and encouraging people to work together to achieve it, listening to others, sharing ideas, putting forward logical progressions toward achieving the mutual goal. He was on the Board of Directors of the Dance Notation Bureau in New York; we were proud to have him as a Patron of the Language of Dance Centre.
(Photo: Carl Wolz teaching Ann Hutchinson Guest the intricacies of handling a sensu)